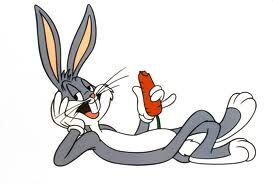 Bugs Bunny is a character in the Looney Tunes comic book series from the start to the present.
His first comic appearance was in the story "The Wild Hare". This was adapted from the 1940 Merrie Melodies cartoon "A Wild Hare", which was Bugs' first cartoon appearance.
About Bugs
He is a mischievous but comical hare.
His Uncle Buckskin is a gold prospector.[1] His great uncle, Bertram Q Bunny, used to be an auto racer.[2]
Appearances
Bugs appeared in his own titles:
He also appeared in nearly every story and on every cover of the Yosemite Sam (Gold Key) series and his name also appeared on the cover, though the indicia show that Bugs' name is not in the title of the series.
He also starred in the foreign-language titles:
Bugs Bunny (Andina)

Bugs Bunny (Sagedition)
Other Comic Appearances
Foreign-Language Appearances
German
Italian
Spanish
Cover Cameos
Foreign-Language Cover Cameos
Italian
Norwegian
Spanish
Swedish
References