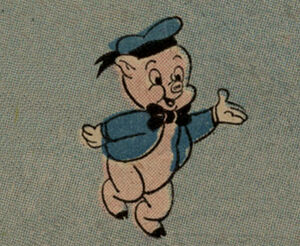 Cicero Pig is a Looney Tunes comics character.
Description
He is Porky Pig's nephew. He bears a strong resemblance to his uncle, though smaller and younger.
History
Cicero originally only appeared in comics; Porky's nephew in the cartoon shorts is named Pinky Pig. In 2021, he made his animated debut in Looney Tunes Cartoons.
Appearances
Foreign-Language Appearances
Italian
Spanish
Cover Cameos
Foreign-Language Cover Cameos
Italian
Spanish
Swedish