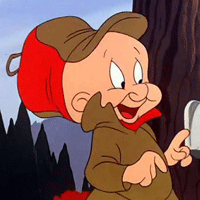 Elmer Fudd is a Looney Tunes comics character.
His first comic appearance was in the story "The Wild Hare". This was adapted from the 1940 Merrie Melodies cartoon "A Wild Hare".
About Elmer
Elmer is a hunter. Wearing his typical red and brown hunting outfit, he usually hunts for rabbits or ducks.
His uncle Figgnewton Fudd is an inventor.[1]
Appearances
Elmer starred in his own series of Four Color comics.
Other Comic Appearances
Foreign-Language Appearances
German
Italian
Spanish
Cover Cameos
Foreign-Language Cover Cameos
French
German
Italian
Norwegian
Spanish
Swedish
References