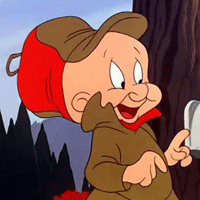 Elmer Fudd is a Looney Tunes character.
His first comic appearance was in the story "The Wild Hare". This was adapted from the 1940 Merrie Melodies cartoon "A Wild Hare".
About Elmer
Elmer is a hunter. Wearing his typical red and brown hunting outfit, he usually hunts for rabbits or ducks.
Appearances
Cover Cameos